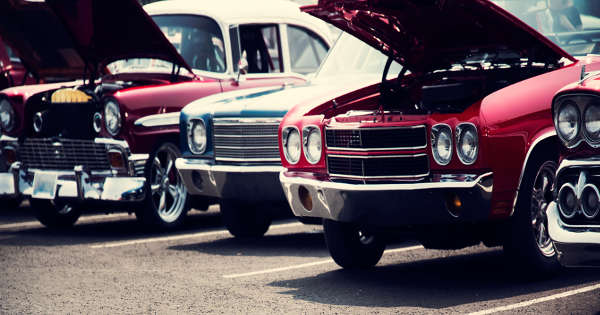 People who own classic cars--or antique cars, collector cars, custom cars, exotic cars, luxury cars, kit cars, modified cars, and muscle cars—usually know a lot about the particular sets of wheels that are in their possession.
They are not always so knowledgeable about insurance.
That's most evident in statistics like one that was reported by the Los Angeles Times a couple of years ago that revealed about half of all men and women who own vintage or exotic vehicles protect their investments with conventional auto insurance policies.
"A lot of people who are into car collecting as a hobby might not be paying attention to things like insurance," Ford Heacock III, chief executive of Heacock Classic, a Florida-based insurer of antique and collectible cars, said in that same article. "They just call their agent and add the car to their policy."
What's so bad about that? For starters, insuring classic cars in this way almost always ends up costing more—sometimes a lot more--than it would if you went with a specialized plan instead. Also, the former rarely offers the same amount or breadth of coverage that the latter option tends to provide.
The good news is that all sorts of companies sell insurance policies that are specifically aimed at folks who own antique, collector, exotic, or luxury cars.
Here's how those policies differ and why you should consider buying one of them if you've already got a classic car.
6 Reasons Why Specialized Auto Insurance is the Way to Go
First, let's go back and flesh out the many reasons why it's usually not the best idea to throw your classic or exotic vehicle onto the same insurance policy that covers your everyday or "regular use" car.
1. 'Agreed value' provides far more protection than 'actual cash value'
One reason specialized auto insurance is almost always a better bet than standard auto insurance is that the latter only pays out the "actual cash value" (also sometimes called "stated value") of a car that is declared a total loss after an accident or incident. That's because the value of non-classic vehicles decreases the older they get and the longer they're driven thanks to wear and tear and a number of other factors, and insurers base the price of their standard policies on that eventuality. Most classic, collector, or exotic cars, however, actually increase in value—or at least retain their value--over time, which is where "agreed value" comes into play.
Basically, when you go to take out a classic car policy (or whatever the company you approach calls their specialty coverage), you, your agent, and your insurer's underwriters put your heads together to determine the agreed value of your vehicle. A wealth of information is consulted to come up with this number, including your auto's age, features, popularity, and rarity. Then, if your car is ever totaled, you will be paid that full, agreed-upon value—no ifs, ands, or buts.
So, assuming the "agreed value" of your vehicle is determined to be $30,000, that is the amount you'll receive if it's found to be a total loss after an accident. If you insured the car with an actual cash value policy instead of $30,000, you'd get less than that. That's because of the depreciation factored into the insurance company's calculations.
2. Specialty coverage usually is a lot cheaper than standard auto insurance
Why would insurance providers charge you less to protect an antique, collector, or exotic vehicle than they would to protect a more ordinary one?
"Classic" cars are driven far less often, and for far fewer miles, than everyday cars, for starters. Also, most of the former are meticulously maintained. Combine those two elements and it's easy to understand why insurance companies often are willing to cut owners of these vehicles a break on their premiums.
How much can classic car owner save? Heacock told the Los Angeles Times that classic car premiums average about 1 percent of a particular vehicle's value.
Not all insurers will quote you that low of a rate, mind you. Bigger companies are likely to charge a bit more, but even then the price tag should be quite a bit below what you would pay if you took out a conventional policy. (Just make sure you mention that your car is a collectible or something along those lines.)
3. Need to replace rare or unique parts? Not a problem…
Consider the following scenario: you take your antique, luxury, or exotic car out for a leisurely drive around town, and during that joy ride a rock that's kicked up by a nearby truck shatters your windshield.
If you'd gone with a standard auto policy in this case, it probably would only reimburse you for replacing the windshield with an off-the-shelf product. Specialized policies, on the other hand, often cover replacing damaged or destroyed parts with ones that are more suitable for the vehicle in question—and allow it to retain its "classic" essence.
4. Feel free to take your vintage vehicle on vacation—and leave your worries at home
Would a conventional auto insurance policy allow you to take your collector or exotic vehicle overseas with you when you go on vacation? Probably not. A good percentage of insurers who focus on the "classic car" market, though, are more than happy to offer that kind of flexibility.
Farmers is a good example, with the Los Angeles-based company sharing on its websites that "special arrangements can be made to protect the vehicle on an overseas tour" for those who have invested in one of its collectible auto policies.
5. You and your wheels will be protected while at auto shows, too
If you choose to insure your antique, collector, or exotic car with a standard policy, it very likely won't be protected from any damage that may be done to it while it's at a classic car show.
Most specialized policies, however, do cover damage sustained at car shows, so you can walk around and ogle the other vehicles that are in attendance without worrying about something happening to your own vehicle.
6. The more often equals the merrier when classic or collectible cars are concerned
Are you an honest-to-goodness collector of so-called classic cars? If so, it should put a grin on your face to hear that a lot of insurance companies that cater to this market will charge you the same low amount for liability coverage regardless of how many vintage autos you may own.
10 Limitations, Restrictions, and Other 'Issues' That Are Tied to These Policies
Classic auto insurance can be for people who own vintage, exotic, or collector vehicles. But there are some limitations, restrictions, and other "issues" to be aware of.
1. One classic car isn't always like another
Just because a specific insurance provider is open to writing specialized policies for, say, antique or vintage cars, that doesn't mean it's open to writing them for kit cars, muscle cars, or race cars.
Thankfully, there's no reason for these companies to keep that kind of information a secret. Check their websites to find out if your car qualifies for coverage. If the website doesn't have that information, give them a call or shoot them an email.
2. You may be out of luck if you're a young'un
Are you under 25, or even 30? If you are, some insurance providers may not sell you one of the so-called classic car policy.
So, what are you supposed to do if you're 20 and you've got your eye on a vintage set of wheels? First, ask around. Although it's true that many insurance companies strictly enforce their "no one under 25 (or 30)" rule, some will bend it if you come from a family of collectors, or if you have a "regular use" car, or if you have a clean driving record.
Another reason to ask around: the agent you approach may not be able to help you, but he or she may be able to put you in touch with someone else in the industry who can.
If putting out a few feelers out doesn't bear fruit, look for an insurer that will cover your vehicle for an agreed value. You may have to undergo an appraisal, share some photos of your vehicle, or participate in an interview. But even if you're asked to do all three, it's worth it if you get enough coverage.
3. Do you have a "regular use" vehicle? If not, you'll likely have to get one…
That's because a lot of companies that sell classic auto insurance won't sell it to you if you don't have a "daily driver" car that can be called on to meet most of your transportation needs.
The good news here is that you don't have to insure both your "regular use" and vintage or collector car with the same company. That said, in some situations going that route may save you a bit of money, so don't shy away from asking about it when you chat with or meet with your agent.
4. If your auto isn't old enough, it may not qualify as a classic
A case in point: Safeco generally only covers "classic" cars that are at least 10 years old, although this Seattle-based insurer apparently will cover "modern classic cars" that are newer as long as they were produced in sufficiently limited numbers.
Don't take that as gospel, though, as other insurance companies are sure to have their own definitions of "classic." One, for instance, may only offer specialized coverage to vehicles that are over 20 years old, while another my only offer it to those that are at least 25 years old.
5. Modifications (sometimes) matter
Here's another example of how all insurance companies are not equal when it comes to writing policies for antique, collector, or exotic cars.
Basically, some insurers won't cover—or will alter their coverage of—cars that have been customized, modified, or not fully rebuilt or restored.
6. Make sure you've got a garage
Something you'll quickly discover when you go to buy insurance for any kind of vintage or otherwise collectible vehicle is that
Most insurers require you to keep your collector car locked in a garage or storage. Any time it's not being driven.
Not only that, but some of them will ask that you provide proof that you can do so or are doing so.
7. You may only be allowed to drive a certain number of miles per year
Depending on which insurance provider you choose for your classic or collector car coverage, you may be limited in various ways as to how much you're able to drive your vehicle and still be protected.
For example, Safeco offers two different options to folks who take out one of its "classic car" policies. One of them restricts drivers of such vehicles to 5,000 miles per year. The other is known as "regular use coverage" and it allows twice as many miles per year.
Other insurers are less generous and limit the number of miles owners of collector or vintage autos can drive to 2,500 or less each year. Some even go so far as to request or require policyholders to send in odometer readings on an annual basis (right around renewal time).
And then there are companies which vaguely tells these sorts of customers that "your antique or classic car must be used on a very limited basis, such as exhibitions, club activities, and parades or similar events."
Granted, providers exist in this space that lean in the opposite direction, too. Some companies place no mileage limitations on their classic-car-loving customers—as long as they don't use their exotic cars on a daily or even regular basis.
8. Some insurers will only allow you to drive it certain places
Although some companies offer policies to owners of classic autos coverage when they take their cars on overseas adventures. But that's not the case with all insurers.
Some insurers only provide protection for antique, collector, or vintage vehicles while they're within the continental United States and perhaps Canada.
As a result, if driving your custom, kit, muscle, or other classic car through the streets of France or Spain or some other foreign country is important to you, be sure to ask if that kind of thing will be covered by any of the policies you're eyeing.
9. Stay close to your car if you want it to be covered
While reading through the paperwork that's associated with a particular classic auto policy, you may come across what's known in some circles as an "attendance clause." This text, if present, usually will say that you have to chaperone your car whenever it leaves your garage or storage space.
Not all insurers require this, though, so be sure to bring it up with your agent if it's an area of concern.
10. Don't assume an insurer will cover your classic wheels if they're raced or even driven down a race track
A good portion of insurance companies place restrictions on the number of miles a classic car can rack up and still be covered. So it shouldn't be surprising to hear that most such companies don't like it when their owners race them. Or even driven down a rack track for fun.
If your heart is set on racing—especially with any kind of regularity--you should be able to find a separate type of insurance policy that will at least somewhat protect your ride during those situations. Just be warned that even these policies are unlikely to protect it when it's on the track. They probably will protect it when it's being stored, though, or while it's being transported to the track, or taken out of its trailer.